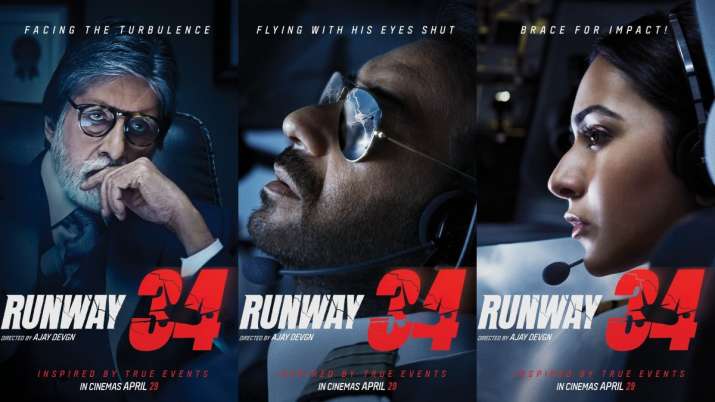 Runway 34 is an upcoming Indian thriller drama film directed and produced by Ajay Devgan under the banner of Ajay Devgan F Films and Panorama Studios. The film stars Ajay Devgn, Amitabh Bachchan, Boman Irani, Rakul Preet Singh, Angira Dhar, and Akanksha Singh. Aseem Bajaj provides Cinematography, and Dharmendra Sharma is the Editor of the movie.
First Look Poster Info:
The makers have released new motion posters for the upcoming movie 'Runway 34'. The serious Bachchan appeared in the first motion poster and came up with his voice-over, in which he questioned Devgan for endangering the safety of his flight attendants. The other motion poster has Ajay Devgan's voice-over as he tries to present his story from a dutiful incident. Looking at the posters and first look, it seems that Ajay and Rakul Preeth Singh is acting as pilots in this movie.
Trailer Details:
Ajay Devgn has unveiled the trailer of his other directorial runway 34. He pretend to be the pilot who found himself in a tricky situation when his plane has not allows to land at the airport due to bad weather. The trailer shows Amitabh Bachchan as the investigating officer, investigating the incident where Ajay Captain Vikrant Khanna forcibly landed the flight without following the warnings and instructions.
In the trailer, Ajay is introduced as Captain Vikrant Khanna. When he stubbornly says that he has not done anything wrong. Amitabh has to admit how common it has to make mistakes but also them. The film looks like a gripping story of what actually happened at 35,000 feet above the ground. The trailer got 43million views on Youtube.
Also Read: Bachchhan Pandey Full Movie Download
Release Date Details:
After looking at the trailer all are eagerly looking for the movie's release. No need to wait until the film team announces. The film has ready to release on 29 Apr 2022 in theatres.
Ajay Devgn Tweets On Twitter About Runway 34 Movie:
Brace for the unexpected #Runway34OnApril29@SrBachchan @Rakulpreet @bomanirani @CarryMinati @aakanksha_s3 @angira_dhar @ADFFilms @KumarMangat #VikrantSharma @Meena_Iyer @PanoramaMovies pic.twitter.com/XhpYfbRM95

— Ajay Devgn (@ajaydevgn) March 12, 2022