2019 Latest Kannada Movie Brahmachari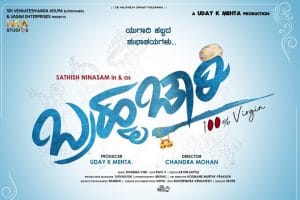 Brahmachari is an upcoming Kannada-language romantic comedy film of 2019. Chandra Mohan has written and directed the movie. The film stars Satish Ninasam and Aditi Prabhudeva in lead roles. Uday K Mehta produces the film. Dharma Vish composed the music for the film. After impressing the audience with teaser and trailer, Brahmachari is slated to release on 29 November 2019.
Brahmachari Kannada Full Movie Details – Story, Cast& Crew, Teaser, Trailer, Release Date
Story
Ramu is a young man who is determined to stay as the ideal loyal husband to his wife, similar to Lord Ram. Ramu gets married to Sunitha. But during their wedding night, Ramu comes to know about his sexual problems.
He, along with his friends, meets Dr. Ramdev for the treatment of his disabilities. Will Ramu's problem gets cleared, or will it last forever is the rest of the story.
Cast & Crew
Director: 

Chandra Mohan

Producer: 

Uday K Mehta

Actors: 

Satish Ninasam, Aditi Prabhudeva, Dattanna, Achyuth Kumar, Padmaja Rao, Ashok, KR Pete Shivu

Music: 

Dharma Vish

Cinematography: 

V Ravi

Editing: 

Arjun (Kittu)

Production Company: 

UKM Studios
Teaser
The first teaser of Brahmachari film got released on 20 June 2019. The teaser has impressed the audience with its comedy angle and unique story-line.
Songs
Hidka Hidka
Aarambha
Trailer –

2019 Latest Kannada Movie Brahmachari
The official trailer of the film got unveiled on 4 November 2019. The trailer shows a glimpse of what the movie will offer in theatres. Chandra Mohan has once again proved to be the master of double meaning comedy. With quirky one-liners, the trailer manages to pack a punch. It has already clocked in 1 million views on YouTube.
Release Date –

2019 Latest Kannada Movie Brahmachari
Brahmachari has managed to capture the attention of movie lovers with its hilarious teaser and trailer. The movie's slated for its theatrical release on 29 November 2019. Brahmachari is clashing at the box office with other expected movies, Vinay Bharadwaj's youthful romantic film Mundina Nildana and Radhika Kumaraswamy's horror-comedy Damayanthi also releasing on the same day.